I was saddened to hear the news of Daphne Zepos' passing earlier today. She succumbed to her battle with lung cancer last night following her diagnosis in April.
Daphne was a fine example of a cheese advocate, and a woman impassioned by her life's work.
There is a giant hole missing in the cheese world today.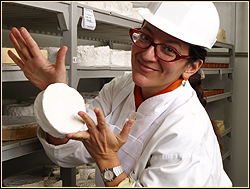 RIP Daphne
I bet there's really good cheese wherever you are now.
x