We hold these truths to be self-evident.
That all friends, family and humans are invited to celebrate the 2012 Fourth of July extravaganza. This day will include picnics, volleyball, waterfights, boozing, merrymaking, parading, sea-splashing, three-legged potato sack racing, and the prettiest form of explosives between the Atlantic and Pacific in the United States.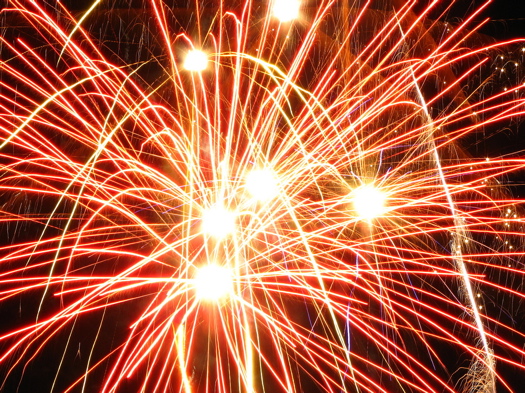 Today, grills across the states will be firing up feasty delights all the livelong day from sea to shining sea. Hamburgers, hot dogs, steaks, chicken, ribs and fresh corn on the cobs will proudly wear their grilled stripes. Accompaniments will proudly stand adjacent to the main charcoal-broiled fare.
If you're lucky you may even get some smoky, maple-planked brie topped with dried apricots, cranberries and pistachios with a drizzle of amaretto and a touch of honey for the gooey holiday celebration you well deserve.
Or you can take delight in knowing that you can actually grill cheese. Try a mint spiked Halloumi variety, Scamorza or cut sheep's cheese in finger length pieces, smother in olive oil and grill to perfection at hot heat.
Around the Ocean Beach parts of San Diego, you'd be wise to stock up on all the good foodstuffs and heaps of marshmallows.
That's right kids, marshmallows!
Tradition holds that following the Ocean Beach firework spectacle in the sky, many tipsy-a-folk split into teams and begin firing sweet, spongy confections at one another just by the seashore. The glow of fireflames will silhouette the rugged, sandy battlefront.
One will certainly need to have on their person plenty of stickysweet ammo because when partaking in the OB marshmallow fight, you'll join the legion of 4th of July marshmallow-dueling warriors, and this is a battle you can't afford to lose. We're always in need of serious sugary firepower for our troops, and you just never know if a sweet tooth fix for a mallow roast will sneak up on you into the late fourthy hours of the day.
Bring your beach gear, super-soakers, volleyballs, horseshoes, hula hoops, and sparklers for fun-in-the-sun and a sparkly 4th. The beaches will be heaving with folks commemorating independence day and taking in the potassium nitrate scents that saturate the night sky. Arrive at your destination early to get more fourthy-July bang for your troubles.
Happy fourth of July fourthiness to you and cheers to the unalienable rights to life, liberty and the pursuit of happiness. Independence is on the march patriots, and we need a marshmallow army. See you there, soldiers.

Jumbles of fun and Fourth of July Fourthiness to all.
Don't forget to stay out of harms way.


Uncle Sam & Auntie Ringo
Captain America will be most proud!
Happy Birthday America!
You don't look a day over 236!