A beautiful eve of cheese, chocolate and wine for dinner?
Why, yes!
As fate would have it, the 5th Annual San Diego Wine, Cheese and Chocolate Festival benefitting the Women's Museum of California transpired (and inspired) as expected.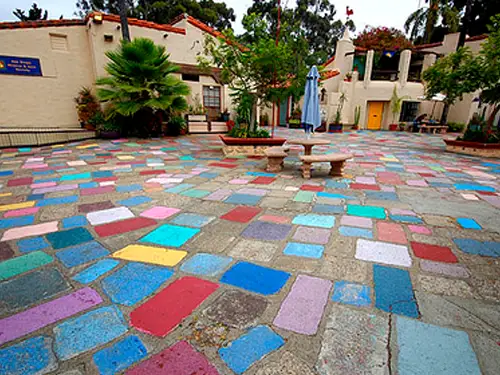 Hundreds took to the vibrant tiled courtyard of the
Spanish Village Art Center
, for an evening of frolic and fun in the quaint village atmosphere.
While local winemakers came out from all corners of the region to unveil their delicious goods.
Owners of
Pure Cupcakes
, Mary Sarain and Lori Schneider were present and kindly sharing their fine chocolatey wares.
Chocolate...
Chocolate...
Chocolate...
...and then, there was chocolate wine.
Taste Cheese
staff members kindly bestowed us with a taste of "Ewephoria", a butterscotch sweet and caramelly sheep's milk cheese, a gouda style little delicacy.
No shortage of mini cupcakes here!
Crepes stuffed with the good stuff.
The chocolate-hazelnutty, Nutella goodstuff, that is.
The eve was followed by a smashing game of fireplay. Here's a silly bit of my evening fire fan show recorded by my dear and fiercely talented friend, Thee Barron Von Richter.
I'm especially fond of my underclothing adjustment at 1:47, and the silly ballerina bit at 1:58.
Methinks I'll commission a "fan" club for such "fan"tastic fun from here on out.
Ah, an evening of artisanal cheese, specialty wines, chocolates so fine,
...and fire.
Oftentimes, I am just swept from right under my feet with the tons of awesome I get out of these completely incongruent interests and fancies of mine.
I wouldn't have it any other way.
Happy weekend whatnots my kith and kin.
x